UA Pipe Fitters Peoria IL
The Local Resource for UA Pipe Fitters in Peoria IL
If you are UA pipe fitters in Peoria IL and seek membership in a long-time organization with respect in the industry, MIMCA is the one to choose. We welcome pipe fitters from the United Association, a union of plumbers, fitters, welders and service techs. The Mid-Illini Mechanical Contractors Association provides many targeted services and opportunities for those in the pipe fitting business to succeed. In fact, we do all we can to promote the commercial and residential plumbing and steamfitting industries in Peoria and surrounding counties.
If you are interested in how to become a member, check out our services for pipe fitters and then give us a call:
Labor relations
Fund representation
Industry information
Networking opportunities
Scholarship awards
Finally, education
What MIMCA Does to Help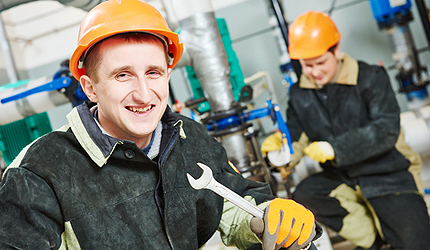 A board of directors, comprised of local companies who volunteer their time and expertise, oversees MIMCA. We were established in 1974 and partner with Steamfitters Local 353 to ensure that our area develops and maintains highly skilled craftsmen. Enhancing the local pipefitting industry, as well as the construction industry as a whole, is our goal.
We have a diverse membership base, comprised of pipe fitters who install, assemble, fabricate, maintain and repair mechanical piping systems. Thus, this job requires extensive training and a knowledge of system operation. Also referred to as steam fitters, pipe fitters are a valuable commodity in this area, contributing to the local economy in big ways. They provide installation of low and high-pressure boilers, steam piping, water feeders and cutoffs, and water level controllers. Additionally, they install refrigeration systems, process piping and equipment, perform site work, and provide building maintenance.
Contact MIMCA in Peoria IL
To learn about membership for UA pipe fitters in Peoria IL or to ask a general question, please contact us at 309-369-0863 or email us at mimcaoffice@gmail.com. Or, you can fill out our online form. IN conclusion, we are based in Lincoln IL.